Satisfaction Levels

Satisfaction levels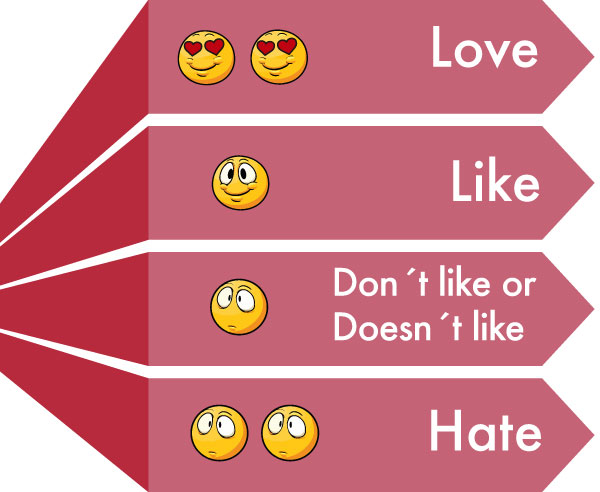 Instructions: Read about Satisfaction levels.
Let's talk about Satisfaction levels
I love reading Romantic novels a lot.
I also like watching Science Fiction programs on T.V.
I don't like horror movies or TV programs.
I hate watching or playing foot-ball.
What about you?

Quiz
Getting started: More about Satisfaction levels
Instructions: Read the following information about Satisfaction level for a third person:
My best friend loves being a lawyer.
He likes helping people from all over the world.
He doesn't like the world to be poor.
He hates bad people.
A survey on satisfaction levels
Instructions: Match the halves of the sentences.
bad music.
sad stories.
like the Beatles music.
Queen Elizabeth II
1. Many people love
.
2. People from all over the world
.
3. Mexican people don't like
.
4. I hate
.

Levels of satisfaction
Let's learn how to express the level of satisfaction.
Instructions: Look at the following information about different levels of satisfaction:
There are different verbs or expressions to express different levels of satisfaction.
The most common verbs to express those levels of satisfaction are:
Love

Like

Don't like or Doesn't like
Hate
Look at the examples:
I love reading books.
James likes watching T.V. series.
Mary doesn't like foot-ball games.
We hate horror movies.

Quiz
Level exercise
Instructions: Choose the best option for each sentence.
I

love

/

loves

eating pizza on Saturday.
Mary

love

/

loves

watching T.V.
Children

like

/

likes

cartoons.
My little brother

like

/

likes

Tom & Jerry.
All girls in my family

hate

/

hates

foot-ball.

Quiz
Unscramble words
Instructions: Unscramble words to make logical sentences.
Louis / chess in contests. / loves playing.

likes being / Harry / a pilot.

doesn't like lying / Diana / people

Boys / crying girls / hate

I / dancing at parties / like

doneCheck

Evaluation
love, like, don't like, hate
Instructions: Choose the right options in the following text.
My aunt

don't like

/

doesn't like

driving at night.
Your brothers

love sleeping

/

loves sleeping

in the tent.
Those children

doesn't like

/

don't like

listening the radio.
These men

hate working

/

hates working

on Saturday.
My sister

don't like tidying up

/

doesn't like tidyng up

her room.