Filling out a form

An application form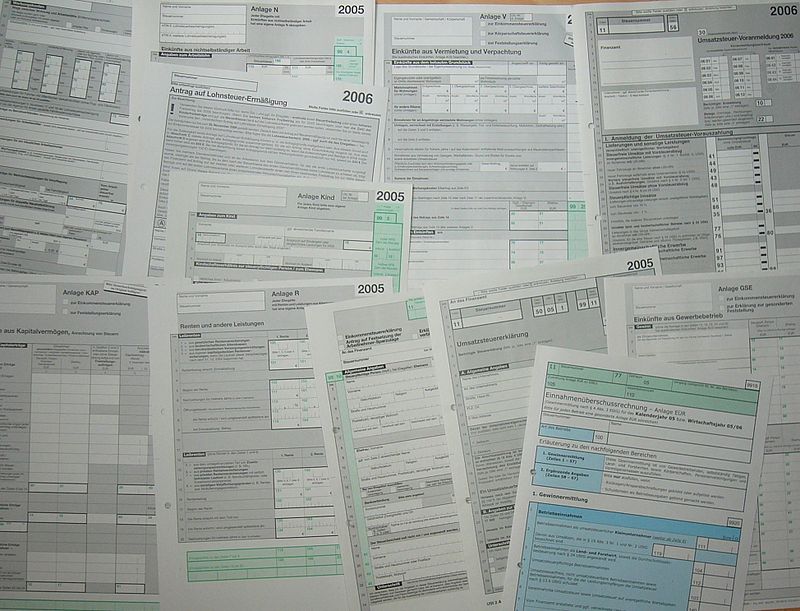 Imagen: A variety of forms. Public Domain. https://upload.wikimedia.org/wikipedia/commons/thumb/a/a8/Mantelb%C3%B6gen.JPG/800px-Mantelb%C3%B6gen.JPG
Instructions: Look at the following application form. Examine the information in it.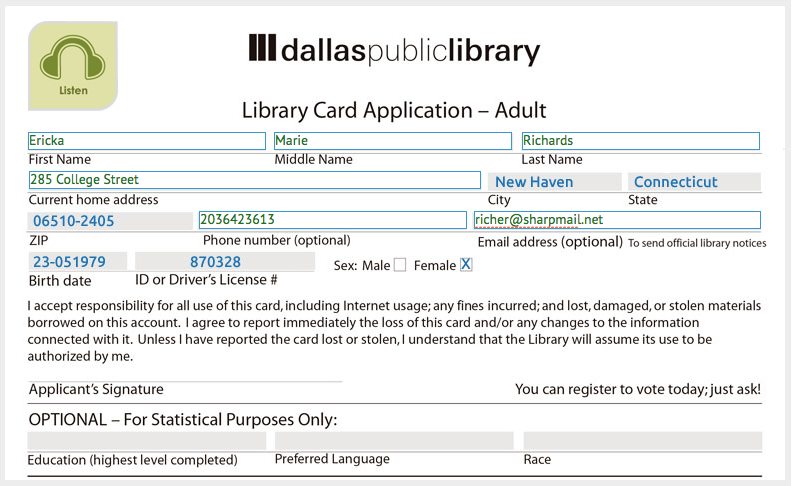 Clik on the image to see a large size

Quiz
Personal information
Instructions: Choose True or False.

Filling out an application form
Let's find out how to fill out an application form.
Instructions: Read about how to fill an application form.
Sometimes it is necessary to fill out an application with your personal information. For example, when you open a bank account or when you want to start a club in your school. The typical information is the following:
Type of information
Example (s)
Complete name
Ida Jane Palmer
Thomas Elliot Johnson
Last name (or Family name)
Palmer
Johnson
First name
Ida
Thomas
Middle name (or middle initial)
Jane
Elliot
Gender / Sex
Female
Male
Phone number ( and/or work phone number, fax number, mobile phone number)
55 66 77 88
56 88 99 23
Address
1975 Laurier Street East
Montreal, Quebec
F4F 1G3
Canada
2414 W. Stone Road
Addison, Illinois
63502
U.S.A.
City
Montreal
Addison
State or Province
Quebec
Illinois
ZIP or Zip Code
F4F 1G3
63502
Salary (*)
$6.30 (per hour)
$40,000 a year
Major
Political Science
Social sciences
Date of birth
May 7, 1986.
June 29, 1981.
email
gloria@fungames.com
keith@art.net

Quiz
Personal information in a form
Instructions: Drag and drop words to make questions.
55 84 97 44 28
27 South Ave
Chris
Law
Evans
November 21, 1962
$50,000 per year
1. Name .
2. Family name .
3. Date of birth .
4. Major .
5. Address .
6. Salary .
7. Phone number .

Quiz
Questions and answers
Instructions: Match the questions to the answers.
Social studies
32 years old
Alice Gilbert
gilbert@success.com
France
42 Kingston Road
55 12 44 19
1. What's your complete name? .
2. Where are you from? .
3. How old are you? .
4. What's your major? .
5. What's your address? .
6. What's your phone number? .
7. What's your email address? .

Evaluation
Different application forms
Instructions: View the examples clicking over number, then write the correct number next to each type of application.
Job application
Sport club application
Bank application
Library card application