Comparatives

Springfield, Oregon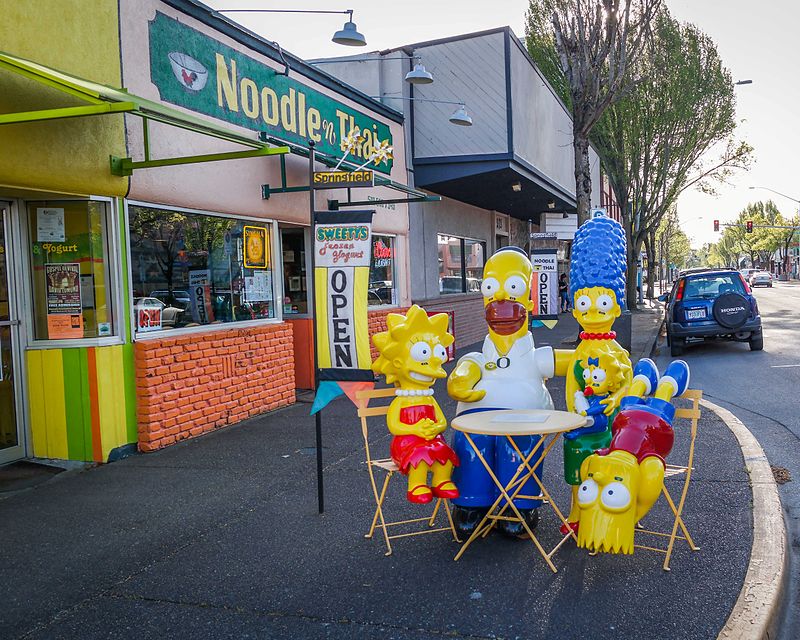 Imagen: A view of main Street in Springfield, Oregon. Creative Commons. https://upload.wikimedia.org/wikipedia/commons/thumb/0/05/Main_Street_%28Springfield%2C_Oregon%29.jpg/800px-Main_Street_%28Springfield%2C_Oregon%29.jpg
Instructions: Read the text about Springfield. Look at the underlinded words.
Explore Springfield's charming historic Main Street, bustling shopping districts, family-friendly options and passionate outdoor and sports-minded community.
In-demand shopping
View the world-record Roosevelt Elk mount at Cabela's, a megastore for outdoor enthusiasts.
Prep for geocaching at the electronic heaven known as Best Buy.
Find just the right embellishment for your trip's scrapbook pages at Hobby Lobby, Michael's and Ben Franklin.
Spend a full day browsing Springfield's many antique and thrift stores.
Pick out University of Oregon gear, local beer, wine or artisan jewelry for gifts at the Adventure Center.
Seek out the Simpsons
Note eerily familiar features around town, reminiscent of "The Simpsons" TV show.
Pose with the life-sized Simpsons family at the Springfield Museum.
Pay homage to The Simpson mural flanking the Emerald Art Center.
It's not Duff beer – but there is always time for a craft beer at one of Springfield's popular breweries.
Outdoor pleasures
Springfield's collection of public art and outdoor murals is extensive and worth touring.
Find the perfect picnic spot at one of Willamalane's 34 parks and 21 playgrounds.
Spot a Red-breasted Sapsucker or American Coot along the Springfield Community Birding Trail.
Reel in a big one from the Banks of the McKenie and Willamette Rivers.

Quiz
Getting started: Portland, Oregon
Instructions: Read the following information about Portland, Oregon.
Portland is the largest city in the U.S. state of Oregon. It is located in the Willamette Valley region of the Pacific Northwest at the confluence of the Willamette and Columbia Rivers. Portland is famous for its liberal political values, and the city has earned a reputation as a bastion of counterculture, which proceeded into the 21st century. Portland ranks as the eighth most popular American city, based on where people want to live.
The city operates with a commission-based government guided by a mayor and four commissioners as well as Metro, the only directly elected metropolitan planning organization in the United States. The city government is notable for its land-use planning and investment in public transportation. Portland is frequently recognized as one of the most environmentally conscious cities in the world because of its high walkability, large community of bicyclists, farm-to-table dinning, expansive network of public transportation options and over 10,000 acres of public parks. Its climate is marked by warm, dry summers and old, rainy winters. This climate is ideal for growing roses, and Portland has been called the "City of Roses" for over a century. The Grimm series has been filmed here since 2011. "Keep Portland Weird" is an unofficial slogan for the city.
Instructions: Match the halves of the sentences.
Portland
Public transportation
Grimm
Springfield
1. Portland is larger than .
2. Springfield is more popular than .
3. Portland has a better .
4. The Simpsons program is older than .

Quiz
Let's learn how to use comparatives.
Instructions: Look at the following information about Comparatives.
Remember: We use adjectives to describe nouns. Examples:

Springfield is an interesting place.

Portland is a big city.

We use adjectives to make comparisons. We also use than to make comparisons.
We add ER to short adjectives. Example: Portland is bigger than Springfield.
We place MORE before long adjectives. Example: Springfield is more interesting than Portland.
There are some exceptions:
| Adjective | Comparative form |
| --- | --- |
| good | better |
| bad | worse |
| Far | farther |
| Ill | worse |
Important: We double the last consonant with monosyllabic adjectives:
| Adjective | Comparative form |
| --- | --- |
| Hot | hotter |
| Big | bigger |
| Sad | sadder |

Quiz
Comparisons with short adjectives
Instructions: Write the appropriate form of the adjective in parenthesis.
Springfield is than Portland. (small)
Portland is than Springfield. (hot)
Springfield is than Portland. (cheap)
Portland is than Springfield. (old)
I think Mexico is than Springfield and Portland. (pretty)
doneCheck

Quiz
Comparisons with long adjectives
Instructions: Make comparative sentences with the following prompts.
Portland
more crowded
is
than Springfield
Some people think
than Portland
more charming
Springfield is
I think
more attractive
Portland is
than Springfield
more boring than
The Simpsons' program
Grimm
is
more interesting than
is
Grimm
the Simpsons'

Evaluation
Comparing Mexico City and Portland
Mexico city is

big

/

bigger

than Portland.
Mexico city is

populated

/

more populated

than Portland.
Portland is

cold

/

colder

than Mexico City.
Portland is

expensive

/

more expensive

than Mexico City.
I think Mexico City is

beautiful

/

more beautiful

than Portland.